White Glove Shipping & Delivery
About Us
Colwright Designer Delivery provides white glove installation services, warehousing solutions, and shipping services nationwide.
Our highly secured and climate controlled warehouse facility offers in-house furniture restoration and upholstery solutions.
From receiving to final mile, we provide exceptional service and expert handling and care.
Delivery / Installation
From one piece to and entire house, you will receive the white glove experience. Care and protection are the highest priority for our experienced and professional installers.
Climate-controlled Warehousing
We provide a wide range of short & long term warehousing solutions including: receiving, inspecting, secured storage and online inventory control.
Professional Art Handling
We offer the highest standards in fine art Installation, specialized packing, and flexible storage. Our art installation experts have extensive experience in the proper handling, placement and installation of fine art.
Crating / Shipping
Whether across town or across the country, we offer professional packing & custom crating services.
Moves
Our skilled and professional movers are equipped with the tools necessary to complete your move whether residential or commercial. A dedicated project coordinator along with our experienced packing crew will administer your move with the highest care.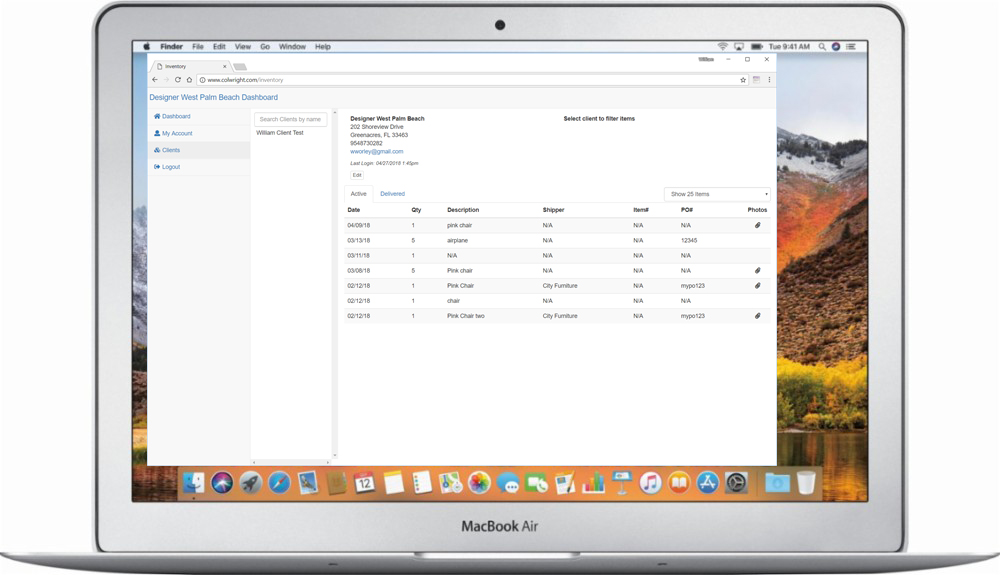 Online Inventory Management
The Colwright dashboard is an online management tool where you can view all your items in one place, including arrival photos, condition and shipper details.
Inventory monitoring
Catalogue client information
Classify received items
Arrange pick-ups
Coordinate deliveries / installs
Get quotes